Robot, Letters, Handwriting?
Our letters are the most effective way to get your direct mail campaigns opened and read with our Robot Handwriting Letter Service.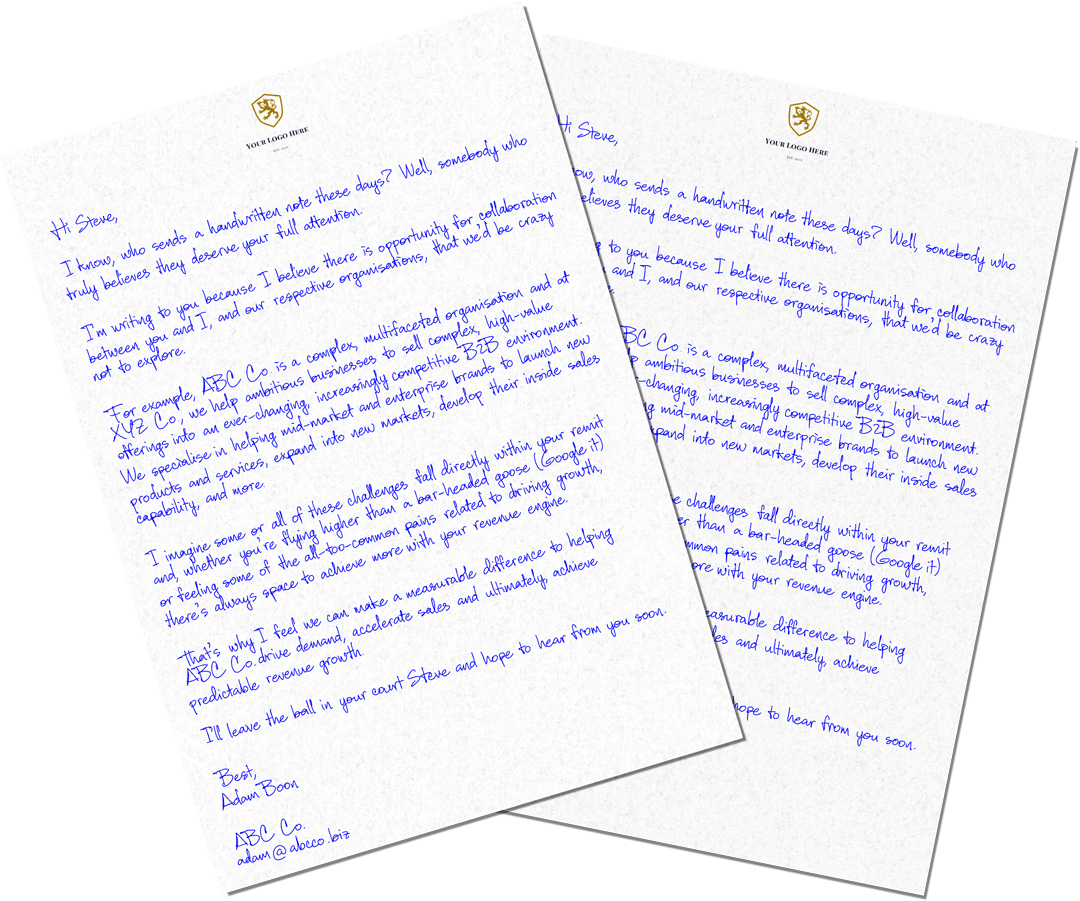 higher open rates than email
authentic with guaranteed results
increase in response rates seen
increase seen in debt recovery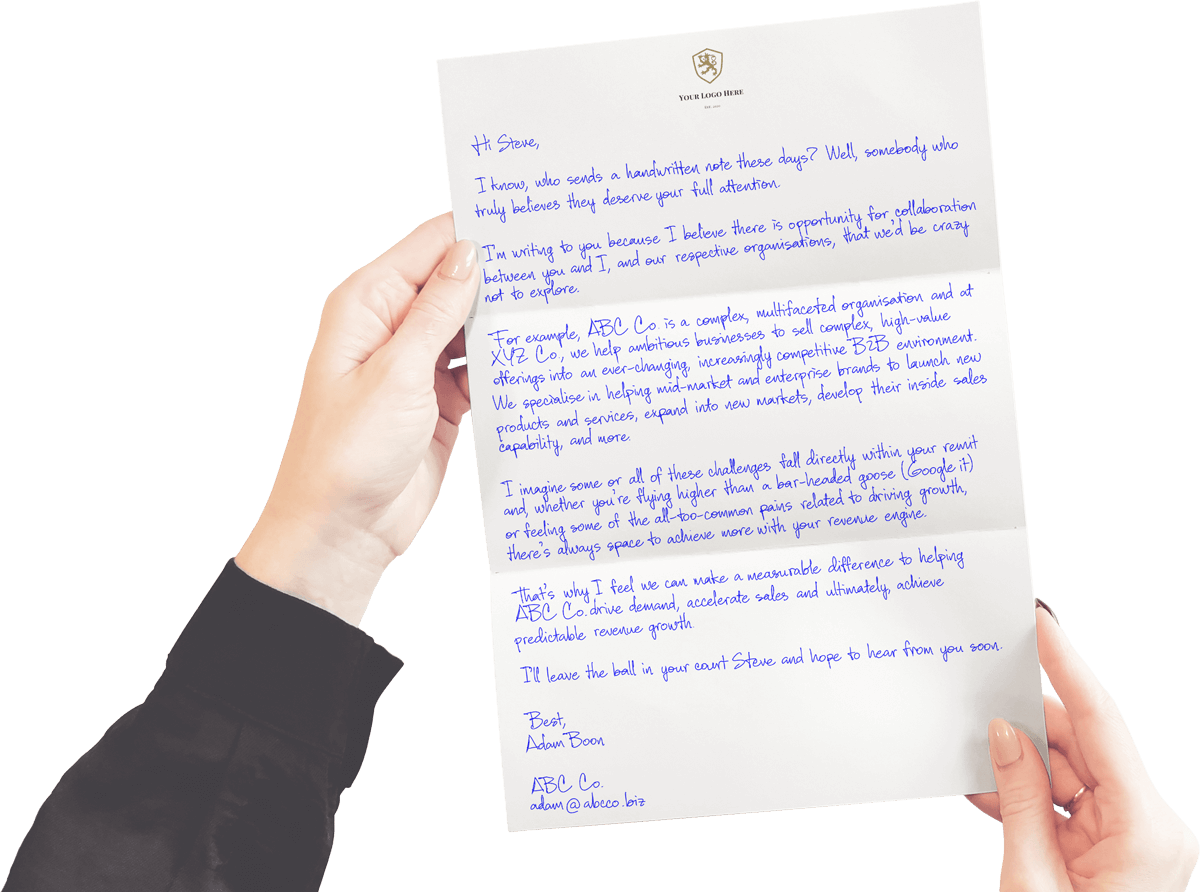 Stand out with

handwritten letters
In this digital age, it can be difficult to stand out and cut through the noise of online marketing. Sending an email or even a typed letter doesn't have the personal touch that a personalised handwritten direct mail letter delivered in a handwritten envelope with a real stamp can offer.
Handwritten letter

service for businesses
Letters and notes have been the longest standing form of communication ever and there is still life in it yet! With the rise of direct mail over the recent years, the biggest challenge for marketers is to get their mailings to stand out in the pile of mail on subscribers doormats. RoboQuill is a UK based handwritten letter service offering an outstanding mix of authenticity and tech to bring to businesses a handwriting service offering robotically handwritten notes and letters at a scale never known before.
Unleash the power of the pen today.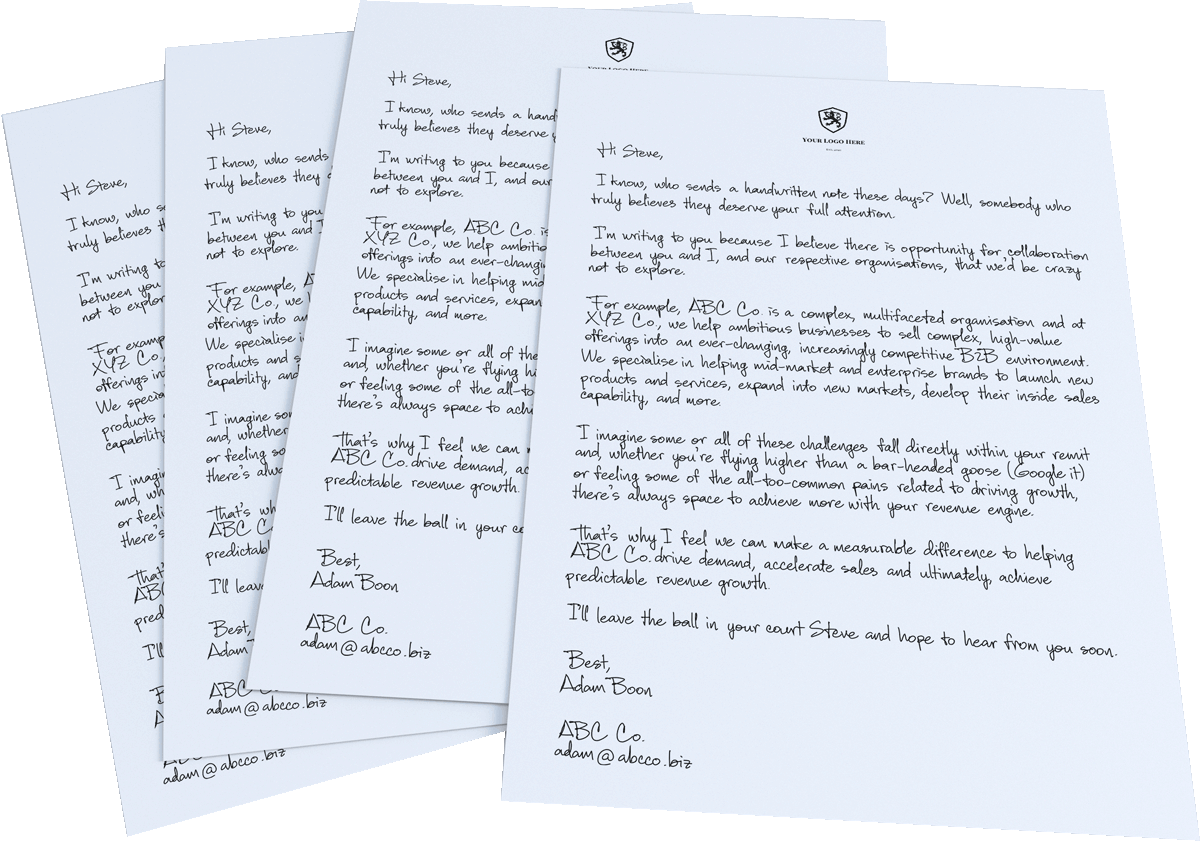 RoboQuill give you the ability to send personalised handwritten letters at scale with our super authentic robotic technology. Gone are the days of laboriously hand writing letters and gone are the days of boring direct mail campaigns. Do you want to stand out from the crowd and add a personal touch to make your recipients feel really special? Our handwriting services can offer you a different handwritten letter format or proofreading for you when hand writing letters.
Add that classy feel to your business' communications.
Gain more loyal clients that stick around because you make them feel special.
Every minute of every day, 203 million emails are sent with an open rate of only 20%.
Simple
handwritten letters
Our handwritten note service could not be simpler to use. Just send us the data, and we'll do the rest. Need your note written on a headed card with your logo? No problem, you can send us your own or we can print them your for you! We are also able to integrate with CRM's and automation services like Integromat and Zapier to truly scale and automate your marketing communications.
Correspondence shipped back to you to finish the fulfilment yourselves.
Correspondence posted direct to the end recipient via Royal Mail.
Single notes sent upon a request from a CRM, eCommerce or other automated systems.
Whether you're planning on sending 1000's of letters to your clients or prospects or whether it's just a few invitations or reservations, we're here for you.
Never has there been a time like now to cut through the stereotype direct mail and make a huge impact on your brand. We're looking forward to being part of your marketing strategy!
*We will not spam or misuse your information. Your enquiry is sent directly to our in-house customer service team.