To handwrite notes is a simple, quick, and extremely effective way to deliver your message with the biggest impact.
Try our handwritten message service to keep ahead of your competitors and lead.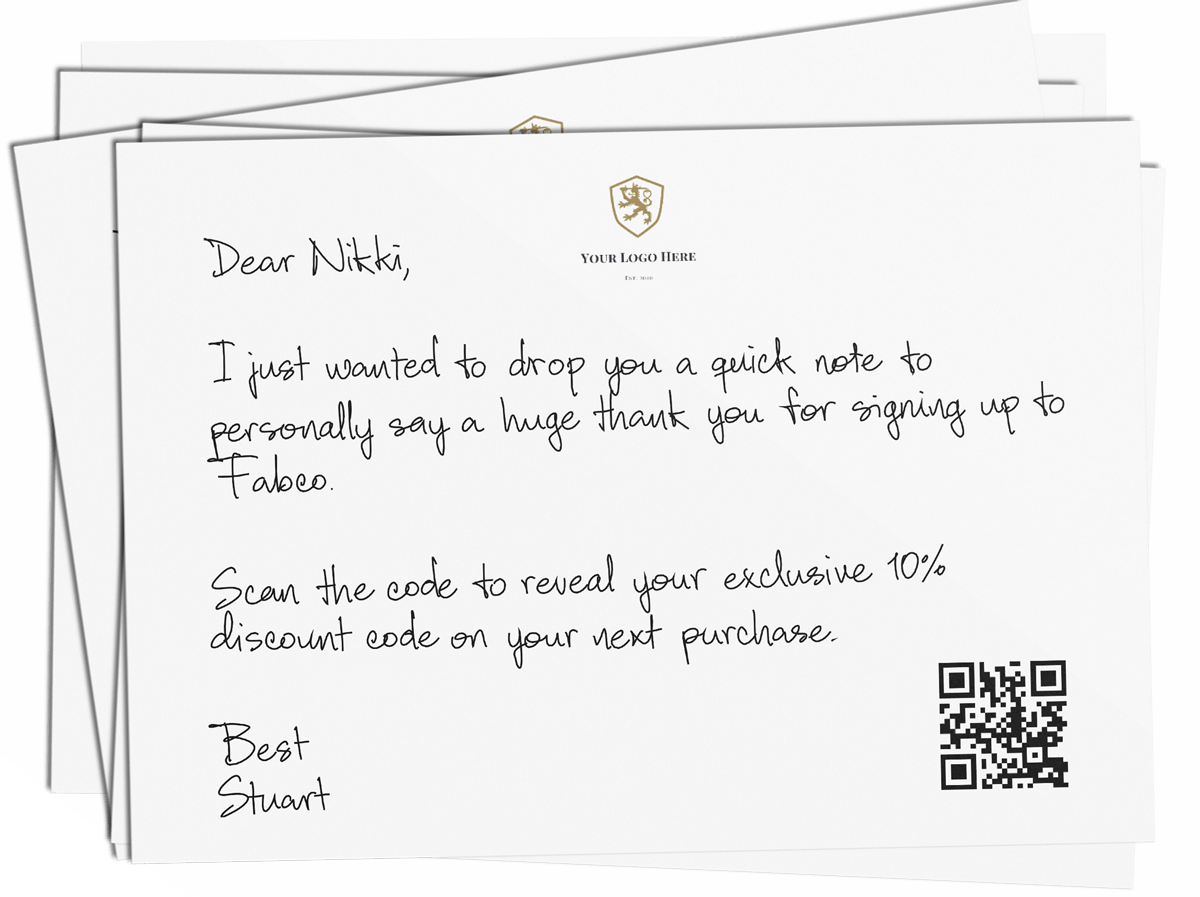 higher open rates than email
authentic with guaranteed results
increase in response rates seen
increase seen in debt recovery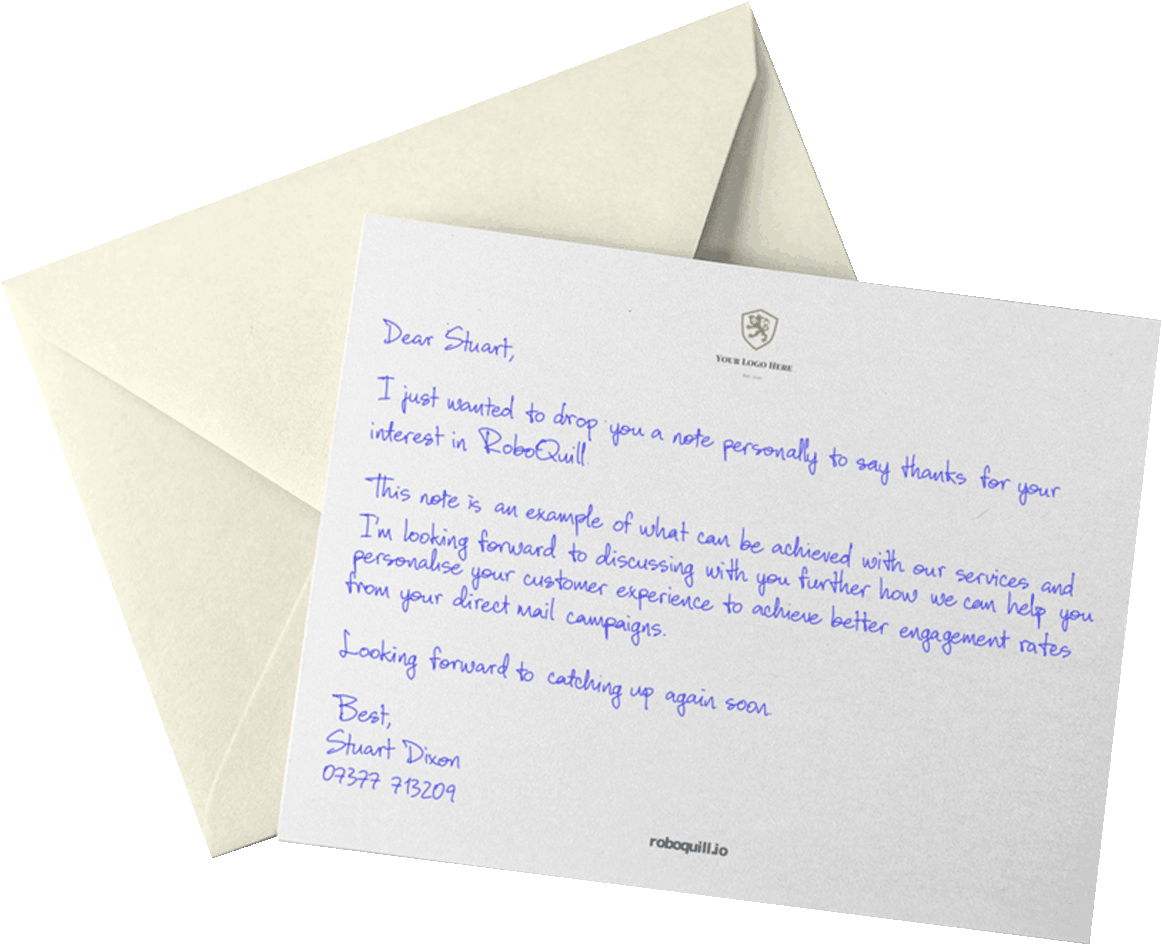 Stand out with

handwritten notes
With so much 'digital noise' nowadays, a simple hand written note could literally be the difference between winning the business yourself or losing it to your biggest competitor. Why? Because it shows you care and have taken the extra time to show your prospect that you really mean business. Read more on how you can use handwritten notes for business.
Handwritten note

service for businesses
It would be true to say that a large majority of businesses have not yet realised just how powerful handwritten direct mail can be when in communication with their customers. A Handwritten note or handwritten card service may seem old-fashioned but there is a reason why they can be so influential in forging long-lasting relationships between brands and their customers. It's because they're so unexpected in this digital age. They surprise and delight. Hand written cards make people feel special.
Unleash the power of the pen today.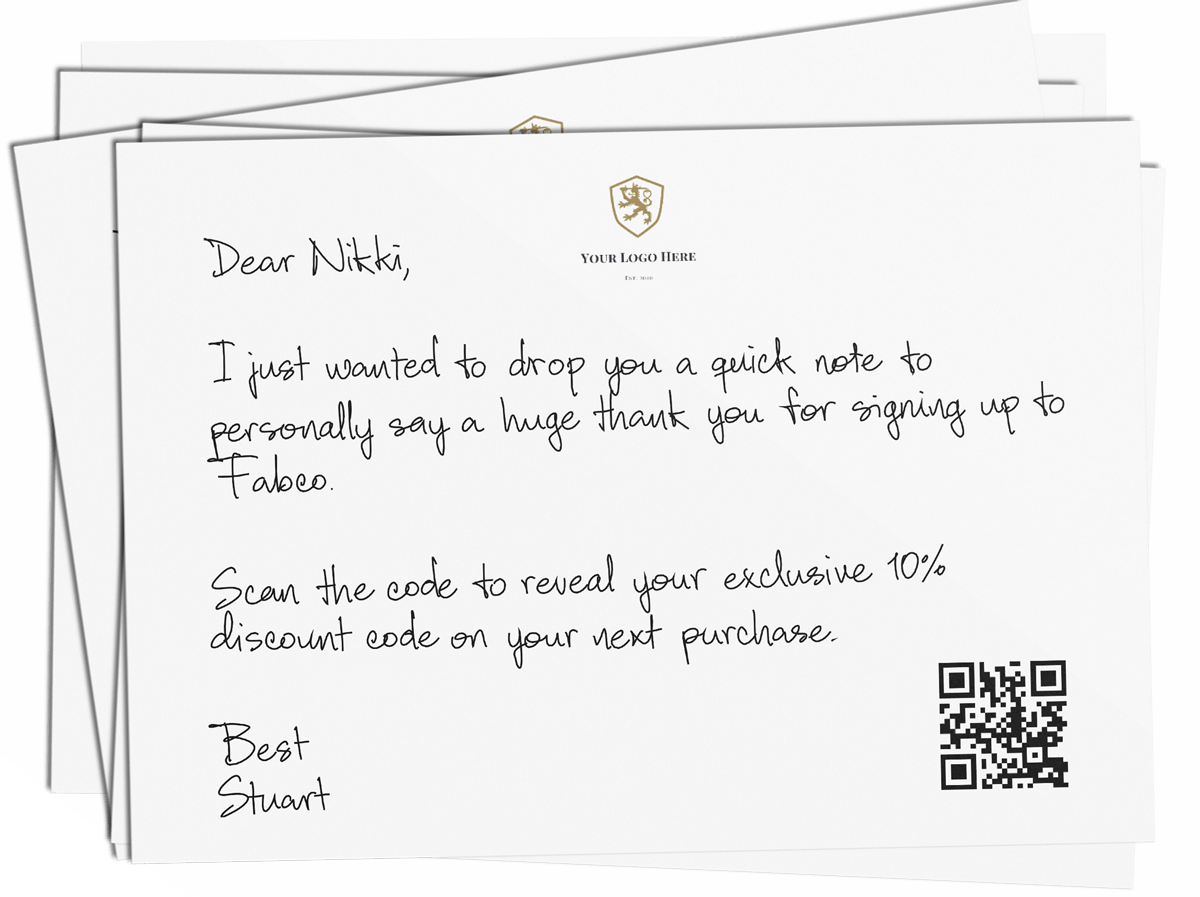 When it comes to business, it is important to truly feel special but, in a world, where hundreds of emails flood our inbox every day, it can be tough for businesses to stand out from the crowd. We want to make sure your clients and prospects feel extra special and can achieve just this with our service. With just a few clicks, we are able to deliver individualised, custom, hand written notes for your team. Your recipients will love our heartfelt notes and your business will earn a smile from its customers.
RoboQuill give you the ability to send personalised handwritten notes at scale with our super authentic robotic technology. Gone are the days of laboriously hand writing notes and gone are the days of boring direct mail campaigns. Do you want to stand out from the crowd and add a personal touch to make your recipients feel really special?
Add that classy feel to your business' communications.
Gain more loyal clients that stick around because you make them feel special.
Every minute of every day, 203 million emails are sent with an open rate of only 20%.
Our handwritten note service could not be simpler to use. Just send us the data, and we'll do the rest. Need your note written on a headed card with your logo? No problem, you can send us your own or we can print them your for you! We are also able to integrate with CRM's and automation services like Integromat and Zapier to truly scale and automate your marketing communications.
Correspondence shipped back to you to finish the fulfilment yourselves.
Correspondence posted direct to the end recipient via Royal Mail.
Single notes sent upon a request from a CRM, eCommerce or other automated systems.
Whether you're planning on sending 1000's of letters to your clients or prospects or whether it's just a few invitations or reservations, we're here for you.
Never has there been a time like now to cut through the stereotype direct mail and make a huge impact on your brand. We're looking forward to being part of your marketing strategy!
*We will not spam or misuse your information. Your enquiry is sent directly to our in-house customer service team.